RuggedSplit 322-24-TR Log Splitter: 22-Ton, 3-Point Hitch, 24" Stroke
This RuggedSplit 300 Series horizontal log splitter connects to a 3-point hitch attachment system found on most compact agricultural tractors. The features on this RS 322-24-TR model include:
22-ton ram force
24" cylinder stroke
2-way blade and a slip-on 4-way blade
Attaches to a Category 1 or Category 2 3-point hitch
Two high-pressure hoses (tractor connection adapters are not included)
All RuggedSplit log splitters come with a one-year parts warranty and access to our highly knowledgeable customer service team.
With this innovative tractor-mounted horizontal log splitter, you can easily reach any woodpile that is accessible by a tractor. This log splitter attaches to a 3-point hitch (Category 1 or Category 2) found on many compact agricultural tractors (connector pins are included). You can hitch and un-hitch this log splitter implement in just a few minutes.
To supply hydraulic power to this machine, connect the log splitter's control valve to the tractor's hydraulic system with the two high-pressure hoses (included) - one 1/2" hose for the supply line and one 3/4" hose for the return line. Agricultural quick-connectors and adapters are not included. Next, start up the tractor and you are ready to split wood.
The horizontal, push-through, design utilizes a steel push plate to drive wood against a 2-way blade welded to the end of the solid steel beam. To really ramp it up, you can use the included 4-way slip-on blade to produce four split logs in one stroke.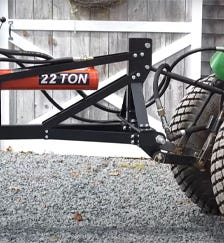 The splitter's sturdy frame attaches to any Category 1 or Category 2 tractor's 3-point hitch.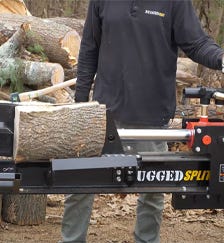 The push-through design means split wood falls right onto your conveyer, or onto a catcher tray.
Four is always better than two! Maximize efficiency and minimize splitting time with a 4-way blade.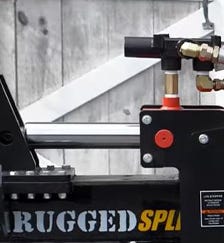 A 2.25" rod and 3/4" cylinder work ports help to reduce cycle times. No more wasted time between rounds!
While RuggedSplit log splitters are engineered to handle the tough stuff, they are also a breeze to operate. You can adjust the working height of the beam by simply raising or lowering the tractor hitch, resulting in less back strain. The 4-way, 3-position, open-on-center hydraulic control valve features an auto-return detent. It is conveniently located on top of the cylinder.
The huge 2.25" rod makes for a rapid return stroke, reducing overall cycle time. Big, free-flowing 3/4" ports on the cylinder ports mean there are no bottlenecks in the hydraulic system. Best of all, the hydraulic power is supplied by the tractor so there is no engine or hydraulic pump to maintain on the log splitter. The minimum hydraulic pressure to operate the splitter is 2,500 PSI.
The RuggedSplit Difference
RuggedSplit log splitters feature commercial-grade design and construction at an affordable price. Precision laser-cut steel; strong, solid welds throughout; and powder coating for long-lasting protection, all mean our wood splitters will stand the test of time. We only use steel-reinforced hoses; heavy-duty steel fittings; and steel-grade hardware, all utilized to withstand the high pressures, force, and power our splitters provide. We stand behind our product 100%, because we know we have engineered a firewood splitter that you can rely on, cord after cord, season after season.
SKU:

48-322-24-TR

Manufacturer:

RuggedMade

Style:

Horizontal

Series:

RS-300

Model:

RS 322-24-TR

Ram Force:

22-Ton

Stroke:

The distance the cylinder rod end travels from fully retracted to fully extended.

24"

Stroke Restrictor Settings:

The distance the cylinder rod end travels from fully retracted to fully extended when the stroke restrictor plates are attached. Reducing the cylinder stroke will decrease the time it takes for the cylinder to return to the retracted position.

20" length

Cylinder Dimensions:

4" bore (ID) x 24" stroke x 2.25" rod (OD)

Cycle Time:

The average time it takes for the push plate to travel a round trip between the fully retracted and extended positions. Time can vary depending on the density of the wood being split.

Depends on tractor

Valve:

Auto-return; 3/4" NPT in/out and work ports

Hoses:

High-pressure, steel re-enforced
Beam (L x W x H):

44" x 5.9" x 5.9" solid steel i-beam

Beam Working Height:

Adjustable via tractor lift

Wedge Type:

2-way; 4-way (slip-on)

Wedge Height:

9"

Max Log Length:

24"

Max Log Diameter:

18"

Log Cradle (L x W x H):

14" x 9" x 7.5"

Product Weight:

400 lbs

Assembled (L x W x H):

78" x 34" x 32"

Shipping Weight:

460 lbs

Shipping Dimensions (L x W x H):

53.5" x 16.5" x 21"

Warranty:

1 year parts
Thanks for your feedback!
Your comments have been submitted.
We Value Your Feedback
Is there a specification that is missing or incorrect? Let us know by filling out the form below.