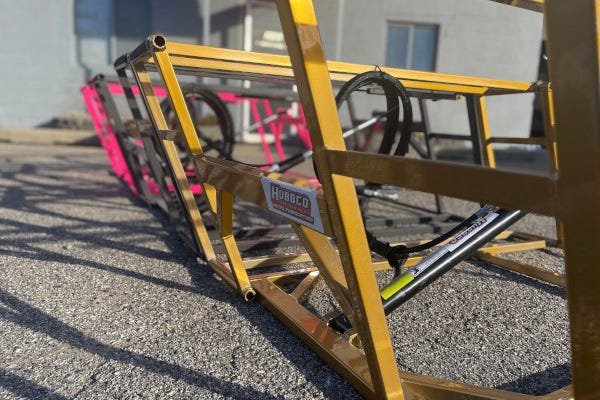 Lucas Hubbell had a day job as an engineer at Amazon where he designed warehouse chutes. There was just one problem. His true passion was UMP modified dirt car racing, a sport that involves driving a 750-horsepower car around an oval track at speeds up to 90 miles per hour.
To pursue his love of motorsports, in 2020 he left the warehouse track for the race car track and launched HUBBCO Metal Fabrication.
At HUBBCO, Lucas and his team set out to build portable hydraulic car lifts designed specifically for the oval dirt track race car circuit. As part of their innovative design, the team decided on a RuggedMade hydraulic cylinder to raise the lift platform. The cylinder features a 1.5-inch bore and reaches a length of 40 inches when fully extended.
Today, these car lifts can be found in use by race car teams and pit crews throughout the country.
Lucas and his team also offer everything from custom metal fabrication, to CAD, and 3D printed orders, leading the way with top-quality products and services for motorsport enthusiasts.
To see these amazing race car lifts, visit HUBBCO Pit Lifts and keep an eye out for the Lucas Hubbell Race Car #23 the next time you're at the race track.
To learn more about the complete line of RuggedMade hydraulic cylinders, visit our Hydraulic Cylinders page.