RuggedSplit 728-30-HE Log Splitter: 28-Ton, Honda 389cc, Log Lift, 30" Stroke
SKU
48-728-30-GX390E-22-LLK-GRP
Special Price
$4,602.24
Regular Price
$4,896.00
When your wood splitting mission requires high performance and reliability, this RuggedSplit 700 Series horizontal log splitter has got your back. The features on this RS 728-30-HE model include:
28-ton ram force (ram force shown in images may vary)
Honda 389cc engine, OHV, 4-stroke (engine shown in images may vary)
Electric start
30" cylinder stroke
Variable stroke restrictor
2-way blade and a slip-on 4-way blade
Log lift and log catcher tray
12" wheels and steel fenders
2" trailer hitch coupler and chain
All RuggedSplit log splitters come with a one-year parts warranty and access to our highly knowledgeable customer service team.
Purchase a hydraulic fluid starter pack, engine oil, or a battery with this log splitter and we'll waive the shipping fee for these items. See Related Products below for these items.
This RS 728-30-HE log splitter delivers impressive power on an elegantly designed platform constructed from commercial-grade materials and components. The horizontal, push-through design utilizes a steel push plate to drive wood against a 2-way blade welded to the end of the solid steel i-beam. When ready to ramp up production, slip on the 4-way blade to crank out four split logs in one powerful stroke.
With this RS 728-30-HE, we truly paired brawn with beauty. Let's start with the hydraulic log lift that easily raises those hefty rounds into the splitting position while a bi-pod support leg provides stability and can fold out of the way when towing. Once a round is split, the extra-wide catcher tray at the blade end keeps logs from dropping to the ground.
This log splitter's power platform features a 389cc Honda electric start engine and a 22 GPM, 2-stage pump.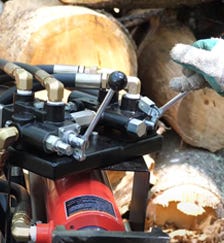 A dual valve power-beyond system can be installed in your choice of multiple positions for truly personalized operation.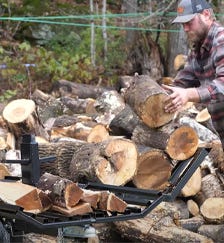 A hydraulic-powered log lift saves your back and doubles as a work table. Just load the rounds and pull the lever.
Four is always better than two! Maximize efficiency and minimize splitting time with a 4-way slip-on blade.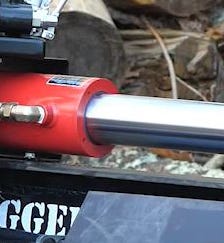 A 3.5" cylinder rod, 3/4" work ports, and 3/4" hoses help to reduce cycle times. No more wasted time between rounds!
While RuggedSplit log splitters are engineered to handle the tough stuff, they are also a breeze to operate. The waist-height beam means less bending over and less back strain. The optional work table is covered with a solid steel sheet to slide partial rounds off to the side while you split. There is no need to straddle the wheel and tank to reach the dual valve power-beyond system, which mounts on a platform located up high over the main cylinder. The main cylinder valve has an auto-return detent.
The enormous 3.5" rod makes for a rapid return stroke, reducing overall cycle time. Big, free-flowing 3/4" ports on the cylinder, connected by 3/4-inch hoses to 3/4" ports on the valves, mean no bottlenecks in the hydraulic system.
You can install the dual valves in five different positions onto their platform: 45 or 90-degree angles to either side of the beam or straight down the centerline -- you decide what's best for how you want to operate the splitter.
The RuggedSplit Difference
RuggedSplit log splitters feature commercial-grade design and construction at a price the average homeowner can afford. Precision laser-cut steel; strong, solid welds throughout; and powder coating for long-lasting protection mean our wood splitters will stand the test of time. We only use steel-reinforced hoses, heavy-duty steel fittings, and steel-grade hardware to withstand the high pressures, force, and power our splitters provide. We stand behind our product 100% because we know we have engineered a firewood splitter that you can rely on, cord after cord, season after season.