RuggedSplit 537-24-RE Tip Up Log Splitter: 37-Ton, Raven 301cc, 24" Stroke
This RuggedSplit 500 Series Tip-Up Log Splitter is a versatile and powerful machine designed to perform both horizontal and vertical log splitting duties. The features on this RS 537-24-RE model include:
37-ton ram force
Raven 301cc engine, OHV, 4-stroke (engine shown in images may vary)
Electric-start with pull-start backup
24" cylinder stroke
4-way blade with removable wings
Heavy-duty log knock-off and log cradle
8" wheels and steel fenders
2" trailer hitch coupler and chain
All RuggedSplit log splitters come with a one-year parts warranty and access to our highly knowledgeable customer service team.
Purchase a hydraulic fluid starter pack, engine oil, or a battery with this log splitter and we'll waive the shipping fee for these items. See Related Products below to add these items to your cart.
This RS 537-24-RE log splitter is a versatile machine designed to split wood in either a horizontal or vertical position. In the horizontal position, you can quickly split smaller logs that you can easily lift up onto the platform. When handling larger logs, you can tilt the beam into the vertical position and then roll the log under the blade for splitting.
A 4-way solid steel blade is attached to the end of the welded cylinder's 2" rod. When splitting wood, the cylinder drives the blade against the round into the footplate. The footplate is welded to the end of the solid steel beam. When splitting unseasoned wood or wood with large knots, you can remove the 4-way wings and split with the main 2-way blade.
Folding support legs provide stability when operating the unit. When you are ready to move the log splitter, simply unlock the legs and fold them away.
The splitter is powered by a tough 301cc Raven engine with an electric start ignition (backup pull-start included). The heart of the hydraulic system is a heavy-duty 16 GPM, 2-stage pump.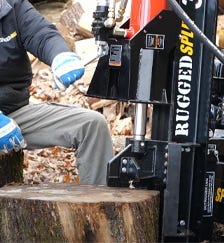 Take a load off! No need to lift larger rounds up onto the beam when you can easily switch into vertical mode.
A log knock-off strips split wood off the blade when the rod retracts. The extension protects the engine and fuel tank.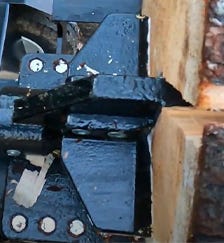 Four is always better than two! Maximize efficiency and minimize splitting time with a 4-way blade with removable wings.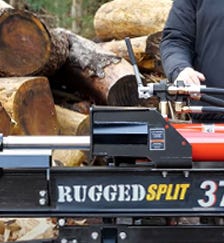 A 2" cylinder rod, 3/4" work ports, and 3/4" hoses help to reduce cycle times. No more wasted time between rounds!
While RuggedSplit log splitters are engineered to handle the tough stuff, they are also a breeze to operate. The waist-height beam means less bending over and less back strain. The optional work table is covered with a solid sheet of steel to slide partial rounds off to the side while you split. There is no need to straddle the wheel and tank to reach the single-spool valve with auto-return detent, which is located up high on top of the cylinder and protected by a sturdy solid steel log knock-off device.
The huge 2" rod makes for a rapid return stroke, reducing overall cycle time. Big, free-flowing 3/4" ports on the cylinder connected by 3/4" hoses to 3/4" ports on the valves mean there are no bottlenecks in the hydraulic system.
The RuggedSplit Difference
RuggedSplit log splitters feature commercial-grade design and construction at a price the average homeowner can afford. Precision laser-cut steel; strong, solid welds throughout; and powder coating for long-lasting protection all mean our wood splitters will stand the test of time. We only use steel-reinforced hoses, heavy-duty steel fittings, and steel-grade hardware to withstand the high pressures, force, and power our splitters provide. We stand behind our product 100% because we know we have engineered a firewood splitter that you can rely on, cord after cord, season after season.